Crystal Journey Pillar Candles
Crystal Journey Pillar Candles are hand crafted in the United States using the finest wax and essential oils. The wicks are made from cotton and paper and they measure 1 1/2" x 7". See below for option descriptions.
Abundance
Use to attract prosperity, increase success and obtain material possessions

Clove, Citronella, Lemon Balm, Cinnamon, Nutmeg
Angel's Influence
Use to honor and call upon our Angels

Honeysuckle, Sweet Heather, Rose, Peppermint
Astral Journey
Use for protection when doing astral traveling or past life regressions

Rosemary, Frankincense, Myrrh, Citronella, Cypress
Cleansing
Use to cleanse your sacred space

White Sage, White Thyme, White Birch, Hyssop
Compassion
Use to enhance your level of understanding and sympathy towards others

Orange Blossom, Vanilla, Chamomile
Courage
Use to create strength in difficult situations and the confidence to do what is right not what is easy

Grapefruit, Pine, Rosemary
Dreams
Use to enhance your dream.

Lavender, Rosemary, Ylang Ylang
Friendship
Use to attract new friends or strengthen existing relationships

Musk, Carnation, Wisteria
Good Health
Use to heal the physical body

Clove, Nutmeg, Lemon Balm, Poppy Seed, Cedar, Honeysuckle, Juniper
Gratitude
Use to enhance thankfulness

Lavender, musk, clove, and cedar
Harmony
Use to create a harmonious and happy environment.

Orange Blossom, Rose, Sassafras, Juniper, Myrrh, Dragon's Blood
Healing
Use to heal the body, mind and soul

Cedar, Ocean, Lemon Balm, Heather
Love
Use to attract someone to you

Olive Oil, Patchouli, Rose, Clove, Lavender, Dragon's Blood
Manifest a Miracle
Use to aid and enhance your love and desire

Magnolia, Honeysuckle, Rose
Money
Use to attract lotteries, raises and cash.

Clove, Cinnamon, Nutmeg, Myrrh, Citronella, Rain
Motivation
Use to enhance your self-confidence and desire to complete tasks and overcome obstacle    

Sunflower, Myrrh, Frankincense
Positive Energy
Use to attract positive energy into your life.

Frankincense, Dragon's Blood, Sandalwood, Saffron
Power
Use To increase the power of all other herbal magic candles

Clove, Musk, Patchouli
Protection
Use as protection from outside forces

Frankincense, Sandalwood, Rosemary, Clove
Spirit
Use to assist your focus on the spiritual side of life.

Sage, Lemon, Clove
Wisdom
Use to assist in the voyage to deeper understanding in the meaning of life

Coconut, Mint, Cedar, Eucalyptus
Customer Reviews
08/07/2020
Bunok K.

United States
Great Products and Customer Service!
I love all of the candles that I purchased from Raw Energy Tools. Customer service is excellent and all of the products I received were just what I was looking for. Support this small business!
The Healing
I purchased healing and then protection at another location. Last night I carved different symbols of healing and protection into each candle along with my name. Once I lit them both I sprinkled a little incent and as the fire grew- I had never seen anything like it. I've never seen a candle with fire that was almost as long as the candle itself. It was energy changing.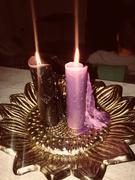 QUESTIONS & ANSWERS
Have a Question?
Be the first to ask a question about this.
Ask a Question